Linked informations For members only (free sign up)

Display Picture : Hoogboom-par-Cappellen. Bataillon du chemin de fer, 3me comp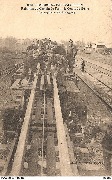 Object
General info
website hosting Image
Cartophilie.be
Image title
Hoogboom-par-Cappellen. Bataillon du chemin de fer, 3me comp. du génie. Pose rapide - Snelle legging
View type
Main View
View status
No copyright
View quality
Standard
Hoogboom-par-Cappellen. Bataillon du chemin de fer, 3me comp. du génie. Pose rap : Evaluations and comments
The comments are owned by the poster. We aren't responsible for their content.
Who's Online
There are currently, 70 guest(s) and 2 member(s) that are online.

You are Anonymous user or you are not identified.
You can register for free by clicking HERE
Last searches
fétiches a la mode
mucha juillet
veinard
gordel anvers
rue du faux
ed hermans anvers
serie b.p..
lillo molen
charbonnage chaumonceau
alban
donck wandeling
rue des trois-rois